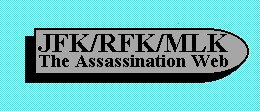 ---
Electronic Assassinations Newsletter
---
Issue #4
Collected Works of Wallace Milam
---
Wallace Milam is a long-time researcher into assassinations of the 1960s. He has written extensively on many topics of research on the assassination of John F. Kennedy and has also studied the assassination of Martin Luther King in great detail. He has been published in assassination journals, delivered authoritative lectures for years and is one of the most interesting presenters that I have had the pleasure to see at numerous assassination-related conferences around the country. His knowledge of some of the more scientifically-oriented and sometimes difficult to understand areas, such as the medical evidence and neutron activation analysis, is impressive. Here are several articles by Wallace assembled together for the first time on The Assassination Web.
---
Table of Contents
---
DR. LATTIMER AND THE GREAT THORBURN HOAX

by Wallace Milam

Wallace, once and for all, dismisses the absurd concept, advanced by lone assassin theorist Dr. John Lattimer, concerning the position of JFK's arms at a point in time allegedly just following the passing of the magic bullet through JFK's neck. This argument, (embraced by Case Closed author, Gerald Posner) which supposedly adds credence the lone assassin scenario, is shown to be completely false.
This is the beginning of a new series of articles on the inaccuracies of Gerald Posner in his now infamous book Case Closed. This is part one of six articles that we have received permission to post from assassination researcher Wallace Milam. The first of the series explores key Parkland hospital doctor's statements as they were in 1963-64 as opposed to what they supposedly told Gerald Posner in interviews for Case Closed. The difference is shocking!
Here is part two in our new series of articles from Wallace concerning the "journalistic integrity" of Gerald Posner. In this article we see how Posner tries to fool his readers into thinking there was no relationship between Lee Harvey Oswald and the ultra right-wing, intelligence-connected Guy Bannister. This article exposes Posner's weak attempt to detach Oswald from being connected with one of many US intelligence assets. Why was Lee Harvey Oswald associated with so many of these kinds of characters when Oswald was supposed to be a Marxist, leftist political animal? Why can't we find Oswald associating with any persons of his own, alleged political beliefs? Does this suggest that Lee Harvey Oswald was some type of spy, or at least a pawn, used in some way by elements of US intelligence?
Posner really bungles the presentation of the Dealey plaza witnesses. But it's more than bungling. The endless mistakes he makes, all in support of his shaky lone assassin story, undermine the credibility of all the rest of his information presented in his book, Case Closed: Lee Harvey Oswald and the Assassination of JFK . Wallace deals with some dirty tricks Posner employed to spin the Oswald-did-it-by-himself fantasy. .

The Posner Follies Part Four - THE ROSE CHERAMIE INCIDENT

by Wallace Milam

Posner wants to debunk all of thes mysterious deaths that are rumored to have occurred over the years since JFK was murdered. Posner wants to discredit the story of Rose Cheramie, who really did predict the assassination of JFK. Posner misrepresents the question of whether she really did predict the murder. Wallace shows how Posner is dead wrong about Cheramie's warning that the President would be killed.

The Posner Follies Part Five - FAST AND LOOSE WITH THE WITNESSES

by Wallace Milam

Posner sure can twist the testimony to suit his need to prove the lone assassin theory's plausibility. Wallace gives us some examples of Posner's talent in distorting the facts to fit his unlikely theories. Reading the actual testimony and comparing it with what Gerald Posner says about can be shocking.

And:


Blakey's "Linchpin": Dr. Guinn, Neutron Activation Analysis, & the Single-Bullet Theory - Part 2 by Wallace Milam.
Even though the House Select Committee on Assassinations came to the conclusion of a possible conspiracy, they concluded the single-bullet theory was legitimate. The head council of the committee, Robert Blakey, utilized the work of Dr. Vincent Guinn in the effort to prove Oswald fired this "magic" bullet. But, how useful is Guinn's information in proving the validity of the single bullet theory? [Note: This article has 7 appendices containing additional information].

In two parts, this article examines the question of whether a match could be made of bullet fragments in existence from the Kennedy assassination and Lee Harvey Oswald's ammunition. The idea of a possible match was originally presented by Dr. Vincent Guinn. Recently Dr. Kenneth Rahn argued in support of Guinn's findings. Can any such match be made by using the method of neutron activation analisis (NAA)?
---